To measure the size of your wrist you will need a tape measure. If you don't have one, you can also use a string/cord. Wrap it around your wrist and measure the length against a ruler.
You measure as close to your wrist-bone as possible. And measure it tight to your wrist as shown in the picture: leave no gap between your wrist and the tape.
When ordering, we ask you the following:
The exact size of your wrist
Did you measure in centimeter or in inches?
Do you prefer your bracelet a bit looser or tight?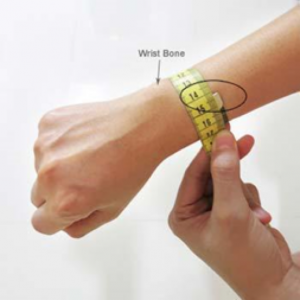 Quickview

Royal

Strong | Grounded | Classic

Free shipping

Handcrafted

Measure your wrist

€

109,00

Quickview

Royal

Energy | Open | Forever

Free shipping

Handcrafted

Measure your wrist

€

139,00

Quickview

Imperial

Energy | Open | Forever

Free shipping

Handcrafted

Measure your wrist

€

209,00